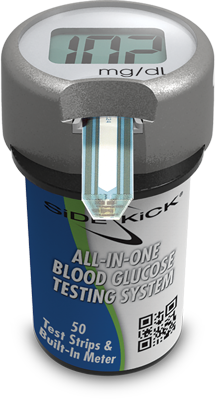 Always There. Anytime. Anywhere.
No coding
1 Microliter Blood Sample
Less than 10 Seconds
50 Test Memory
Forearm or Fingertip
Discard entire unit after final test
Contents:
50 Test Strips
Built-In Meter
Control Solution 3mL
Lancing Device
10 Sterile Lancets
Self-Test Log Sheet/Quick Start Guide
GoPak
Sidekick® All-In-One-Blood Glucose Testing System
CONVENIENT ON-THE-GO BLOOD GLUCOSE TESTING
Test on-the-go with Sidekick® All-In-One Blood Glucose Testing System. The convenient Sidekick® system makes monitoring your blood glucose levels easier and simpler. The compact design makes this system the perfect travel companion. It neatly fits into the GoPak, uses a small sample size, and it is disposable, so you can take it anywhere and use it on the go.
FIND US
Sidekick® is available at various online retailers.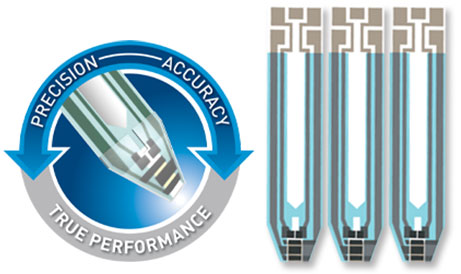 Sidekick® Test Strips
Sidekick® test strips feature our patented TRUEfill® technology with a beveled tip allowing for greater sampling precision and first-test success.
WARNING!
NEVER reuse Test Strips. NEVER wipe Test Strips with water, alcohol or any cleaner. DO NOT attempt to remove blood or control sample from Test Strips or clean Test Strips and reuse. Reuse of Test Strips will cause inaccurate results.